Welcome to Absolute Heaven

Private Beach, Incredible Ocean Views and Sunsets

The Fitness Center at Absolute Heaven
Personal fitness center with a full assortment of workout equipment located beneath the Island View Cottage

Spectacular Gardens at Absolute Heaven Oceanfront Suites
South facing ½ acre waterfront property on the Sunshine Coast of BC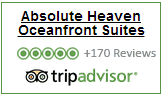 "I loved my stay here. I've been a few different times, and every time it was excellent! Doug and Doreen and very nice and will do anything to make you feel at home. The views of both suites are incredible and the hot tub is a really great spot to watch the sun go down. The beach is a quiet private area and is also a really nice place to relax by the fire and soak in the views of the neighbour islands."